Community embraces Port of Vancouver USA tours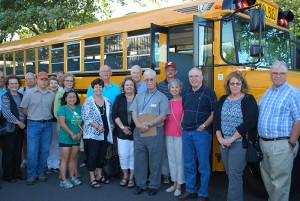 Around 400 people toured the Port of Vancouver USA through its popular public tours this year, which wrapped up in September.
The port held 10 public tours in 2017, starting in March. That's up from eight tours in 2016 and four in 2015 as demand has grown and more people are interested in what happens at their public port.
"Overwhelmingly, people tell me they had no idea of the breadth and magnitude of business taking place at the port," said Community Relations Specialist Julie Rawls, who manages and conducts the port's tours.
Many ports used to be open to the public, but the events of Sept. 11, 2001, resulted in tighter security at U.S. domestic ports. The U.S. Department of Homeland Security and the U.S. Coast Guard oversee security at the Port of Vancouver, and often a public tour with staff is the only way for citizens to experience the important trade and commerce taking place at the port.
And when they see it for themselves, they're amazed.
"I have lived here more than 40 years and didn't know how much I didn't know," wrote one tour attendee on a comment card. Another attendee appreciated how Rawls' expertise "brought us the information needed to understand and appreciate the relevance and value the Port of Vancouver is to the city, county and country."
A typical public tour starts with refreshments and an overview presentation. The group then boards a bus for a guided tour of the port's marine, rail and industrial facilities. In addition to public tours, staff conduct approximately 25 smaller tours for community groups ranging from Leadership Clark County to Student Manufacturing Day and the Southwest Washington League of Latin American Citizens.
To learn more about public tours and sign up for notifications on tour dates, visit www.portvanusa.com/community/know-your-port/ and subscribe to the port tour mailing list.