The Advantaged Supply Chain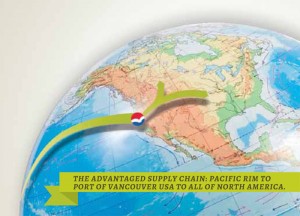 A direct, uninterrupted route from the Pacific Rim to the Midcontinent. Lewis and Clark would be proud.
Explorers Meriwether Lewis and William Clark dreamed of an efficient supply route to and from the West. But they couldn't have imagined the improvements 200+ years and miles of rail would make. Today, the Port of Vancouver USA can move your products to or from the Midcontinent in a mere six days, and more cost-effectively than ever thanks to our state-of-the-art cargo handling advantaged rail rates, and connections and resources that streamline the process.
Learn more about how the Port of Vancouver USA can help you with your shipping needs by downloading our  or Advantaged Supply Chain brochure contacting one of the following port employees at 360-693-3611.
Alastair Smith
Chief Marketing & Sales Officer
 Heinz Lange
Sales Director
Ship Faster. Ship Smarter.